INHUME - Official Website
What a way to both celebrate 25 years of existence!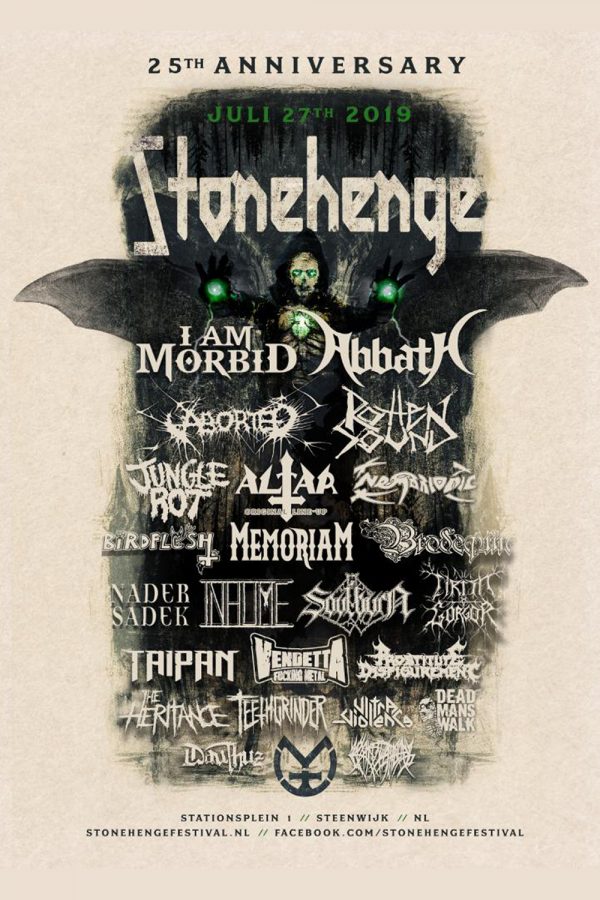 That's right!
Putrid Offal and Inhume will embark on a small Eurotour tour this October
See you all out there!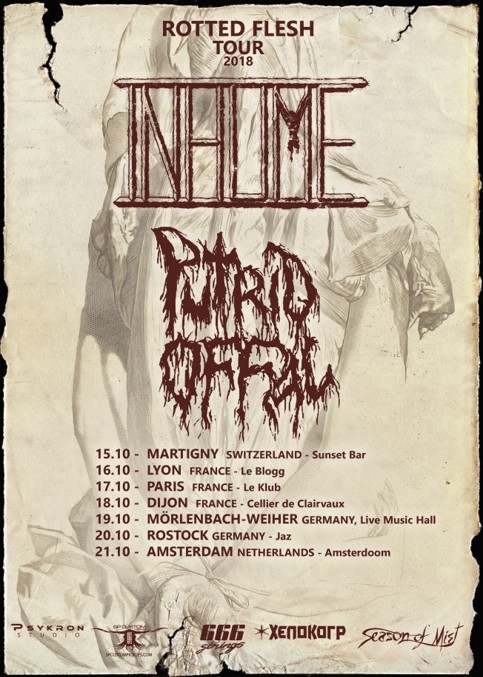 Putrid offal/Inhume "ROTTED FLESH" Eurotour 2018
October 15 Martigny, Switzerland
October 16 Lyon, France
October 17 Paris, France
October 18 Dijon, France
October 19 Mörlenbach-Weiher, Germany (+ Blood & Hellknife)
October 20 Rostock, Germany
October 21 Amsterdam "Make Amsterdoom Grind Again!", Netherlands (+ 01101111011101100110111001101001, Pulmonary Fibrosis & Skullhog)
17,5 years after it's initial release we are proud to announce:
The Xeno-Korporation is proud to announce your specie will soon suffer a full-on assault of dark bio-weaponry that will not only leave your weak innards rot, but, let's put it straight, bury your so-called civilisation six feet deep with the reissue of INHUME's debut full-length, "Decomposing from Inside", on vinyl for the first time ever!
Originally released in 2000 through cult French powerhouse Bones Brigade records, the twin-headed beast will rise again on Fall 2018 as a 300 hand-numbered copies limited edition first print 12" LP, specifically remastered for vinyl at renown Conkrete studio (DEFEATED SANITY, MERCYLESS, PUTRID OFFAL…) and featuring not only bonus REGURGITATE and REPULSION cover versions, but also the INHUME story 1994-2001 by journalist Joe DENBY of BRUTALISM.com with founding member Bassist Loek PEETERS, guitarist Ben JANSSEN.
Featuring past and present members of acts such ASPHYX, SINISTER, LEGION OF THE DAMNED, GOD DETHRONED and more, produced by Erwin HERMSEN of MANGLED at TONESHED studio (CIRITH GORGOR, BILE, HADES ALMIGHTY…) and originally mastered by Willem STEENTJES at STONESOUND studio (MERCYFUL FATE, GOREFEST, SORTILEGE…), training their rotten material since years on European scenes and rehearsing it since more than five years with their, by then, quite rare line-up featuring two vocalists, it was pretty sure INHUME were heading for success with the release of "Decomposing from Inside" more than 17,5 years ago and, even to this day, the album remains relevant in all aspects and hardly matched in terms of intensity.
Get ready for a new attack in our neverending Xeno-biological war against everything human!
 Track List
Gargling Guts
Squirming Parasites
Human Fucking Guinea Pig
Schizophrenic Pulp
Unforseen Annihilation
Forbidden Hunger
Airplane Crash
Splenetic Views
Blood, Sperm, Shit
Tiamat
Meatcleaver
Tumorhead
Four Months Below
Inescapable Destiny
Regressive Progression
The Misssing Limb
Dead Man Walking
Destructive Impulse
Invisible Death
Genital Cancer [bonus REGURGITATE cover]
Acid Bath [bonus REPULSION cover]
Total Running Time: 37:05
Line Up
Joost Silvrants – Vocals
Johan Dirkx – Vocals
Harold Gielen – Guitars
Ben Janssen – Guitars
Loek Peeters – Bass
Roel Sanders – Drums
You can find/follow us now on Instagram with "inhume_official" or various tags like #inhume # grindcore # grinddeath #deathgrind
P.s. As of this week we'll start work on our next Inhume album to be released in 2017!

Cheers,
Inhume!
More Articles ...