INHUME - Official Website

See you all at:
STONEHENGE FESTIVAL, July 27, Steenwijk NL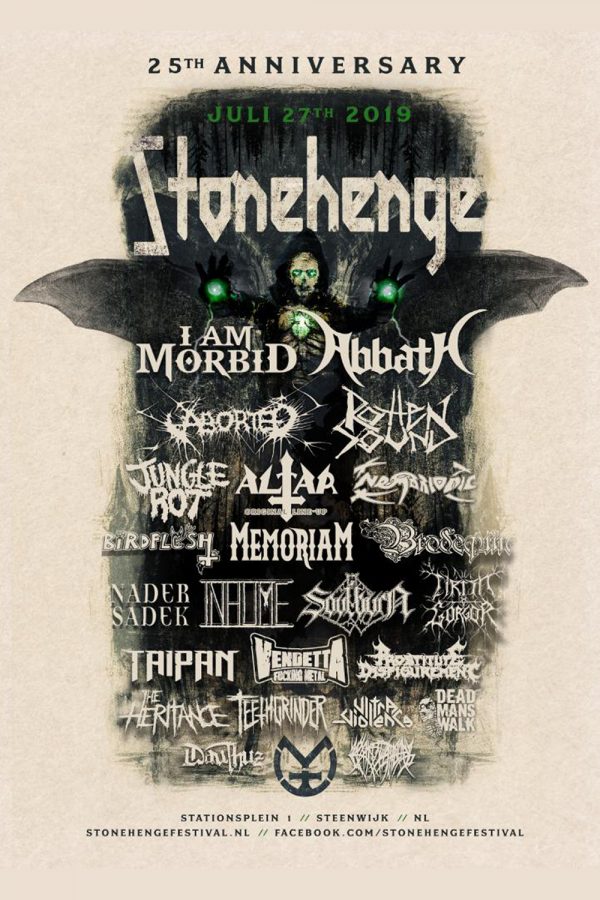 Hellcome to Germany's Hellish Garden party!
"IN FLAMMEN OPEN AIR"

666% metal and No Commerce!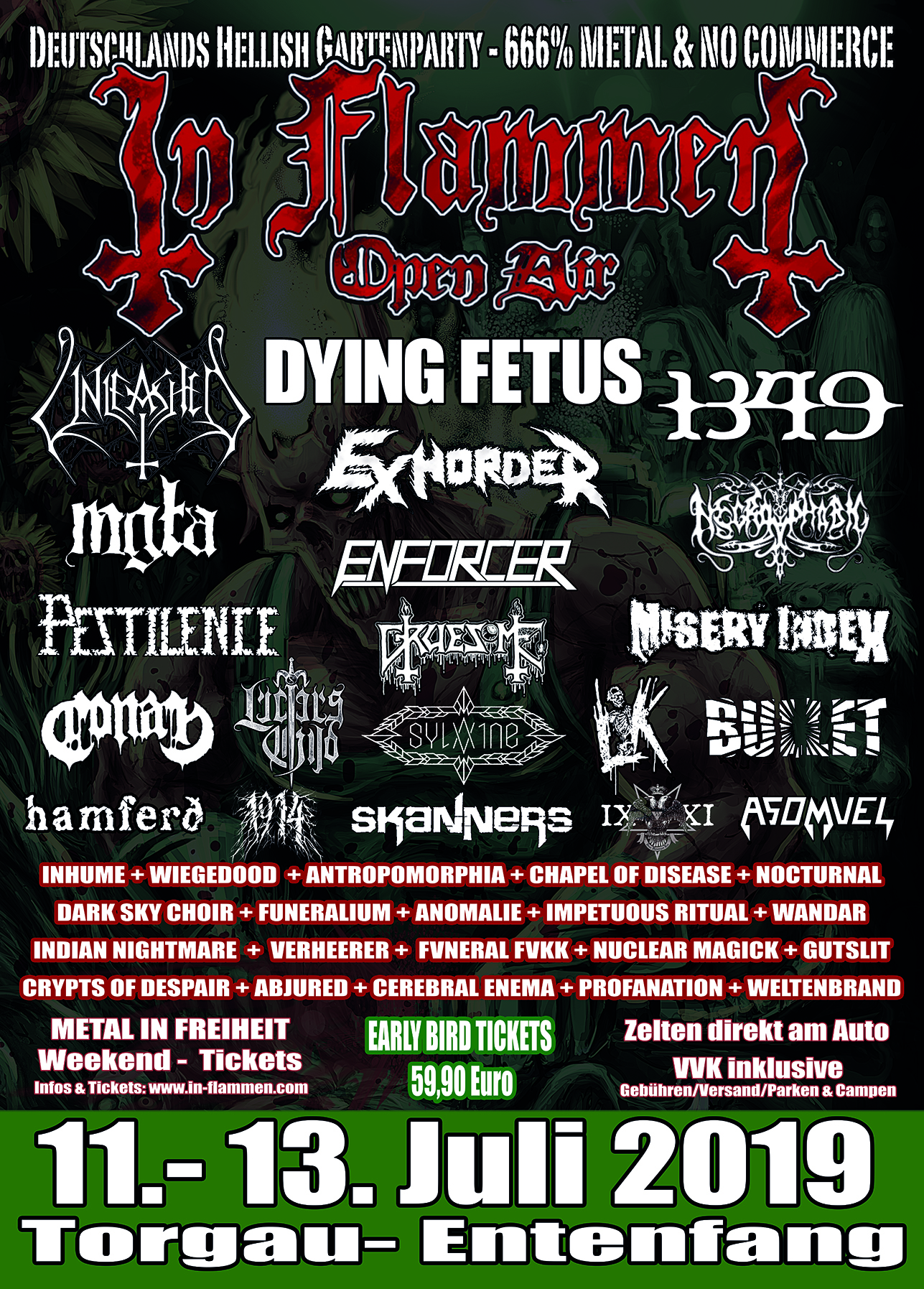 More bands to be announced for this 39 band 3 day fest!
Limited to 500 copies with the first 50 coming with a 10 by 10 cm patch!
INHUME / THE DR. ORPHYUS PROJECT "DEATH NAPALM " Out now on Left Hand Patches!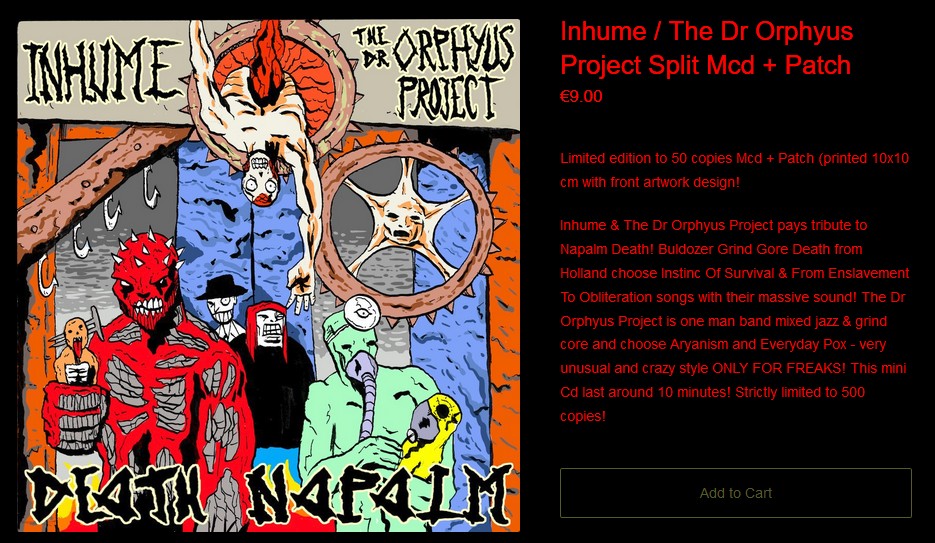 Inhume & The Dr Orphyus Project pay tribute to Napalm Death! Bulldozer Grind Gore Death from Holland choose "Instinc Of Survival" & "From Enslavement To Obliteration" songs with their massive sound!
The Dr. Orphyus Project is one man band mixed jazz & grindcore and choose "Aryanism" and "Everyday Pox" - very unusual and crazy style ONLY FOR FREAKS! This mini Cd last around 10 minutes! Strictly limited to 500 copies!
INHUME to release "Exhume - 25 years Of Decomposition" collection album through XENOKORP
!!! PRESS RELEASE !!!
XENOKORP
Releasedate: 7 December 2018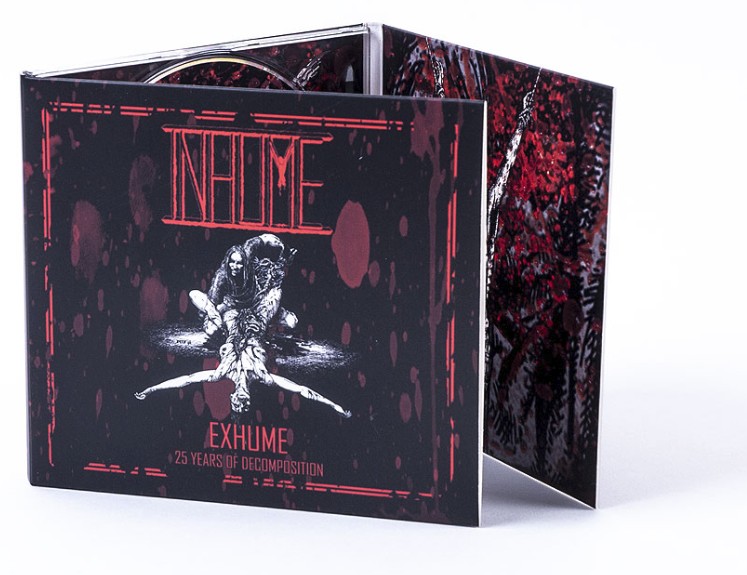 XENOKORP is proud to announce the Dec.07 release of "Exhume: 25 Years of Decomposition"
a collection of rare and previously unreleased tracks by Death / Grind veterans INHUME celebrating the band's a-quarter-of-a-century-long brutal history.

"Exhume" is collecting all of INHUME's demos, splits (with BLOOD, LAST DAYS OF HUMANITY, S.M.E.S., SUPPOSITORY and MUMAKIL) and tribute tracks (REGURGITATE, REPULSION…) so far
as well as previously unreleased ten-years-old pre-production material for the band's latest full-length so far, "Moulding the Deformed", and three rare live tracks from 1997 including a TERRORIZER cover version.

Compiled by the band itself and remastered at CONKRETE Studio (DEFEATED SANITY, MERCYLESS, PUTRID OFFAL…) it will come with a re-worked version of "The Missing Limb" 1997 demo artwork
as a gorgeous 500 copies limited edition DigiPak CD first print including a 16 pages booklet full of detailed liner notes, classic pictures, flyers, etc.,along with a brand new t-shirt design.

The album and merch. will be available for preorders starting Oct.22, right after INHUME's new European tour with label-mates PUTRID OFFAL with,
depending on the manufacturers' reliability, exclusive advance availability of both the album and merch. during the tour.

On a side-note, the previously announced and delayed until further notice vinyl reissue of INHUME's 2000 debut full-length "Decomposing from Inside" has now been rescheduled for a first half of 2019 tentative release.
More on it later.

Track List:
01.Tiamat [1995]
02. Forbidden Hunger [1995]
03. Fucking Shit [1995]
04. The Missing Limb [1995]
05. Tumorhead [1995]
06. Squirming Parasites [1995]
07. Inescapable Destiny [1995]
08. Invisible Death [1995]
09. Hate/Kill just for Fun [1995]
10. Meatcleaver [1995]
11. Blood Sperm Shit [1997]
12. Gargling Guts [1997]
13. Airplane Crash [1997]
14. Human Fucking Guinea Pig [1997]
15. Cadaverous Abortion [1997]
16. Dead Man Walking [1997]
17. Destructive Impulse [1997]
18. Schizophrenic Pulp [1997]
19. Trapped In Darkness [1997]
20. Genital Cancer [REGURGITATE cover, 2001]
21. Bowel Movement [2003]
22. Process to Decelerate [2003]
23. Fucking Shit [2003]
24. Virus [2007]
25. Moulding the Deformed [2007]
26. Acid Bath [REPULSION cover, 2009]
27. Virus [2009]
28. Moulding the Deformed [2009]
29. Cure for Life [2009]
30. Zombie Grinder [2009]
31. Prophet [2009]
32. Tiamat [2009]
33. Invisible Death [live, 1997]
34. Corporation Pull-In / Airplane Crash [TERRORIZER cover / original, both live, 1997]

Total running time: 72:37
Tracks 1-10 from "Demo I" [demo]
Tracks 11-19 from "The Missing Limb" [demo]
Tracks 12, 13 & 19 also from split with BLOOD
Track 20 from "Comaback of Goregods"
Tracks 21-23 from "Dutch Assault" [split with LAST DAYS OF HUMANITY, S.M.E.S. & SUPPOSITORY]
Tracks 24-25 from "Slimewave Series 6" [split with MUMAKIL]
Track 26 from "Tribute to REPULSION"
Tracks 27-32 previously unreleased "Moulding the Deformed" pre-production
Tracks 33-34 from "Enjoying the Violence" [split live demo with MUNDO DE MERDA]

Line-up for this compilation:
Joost SILVRANTS – Vocals (1-34)
Johan DIRKX – Vocals (1-23, 33-34)
Dorus VAN OOIJ – Vocals (24-32)
Richard ELBISCH – Guitars (1-19, 33-34)
Ben JANSSEN – Guitars (11-34)
Harold GIELEN – Guitars (20-25)
Loek PEETERS – Bass (1-34)
Roel SANDERS – Drums (1-34)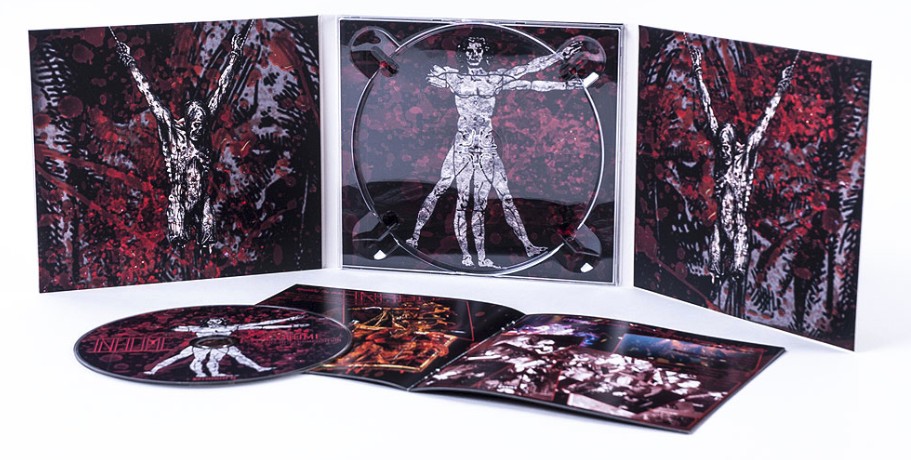 More Articles ...